Used SpaceX booster set for historic first reflight is test fired in Texas
February 6, 2017 by Ken Kremer, Universe Today
SpaceX Falcon 9 first stage previously flown to space is test fired at the firms McGregor, TX rocket development facility in late January 2017. Credit: SpaceX
The first orbit class rocket that will ever be reflown to launch a second payload to space was successfully test fired by SpaceX engineers at the firms Texas test facility last week.
The once fanciful dream of rocket recycling is now closer than ever to becoming reality, after successful completion of the static fire test on a test stand in McGregor, Texas, paved the path to relaunch, SpaceX announced via twitter.
The history making first ever reuse mission of a previously flown liquid fueled Falcon 9 first stage booster equipped with 9 Merlin 1D engines could blastoff as soon as March 2017 from the Florida Space Coast with the SES-10 telecommunications satellite, if all goes well.
The booster to be recycled was initially launched in April 2016 for NASA on the CRS-8 resupply mission under contract for the space agency.
"Prepping to fly again—recovered CRS-8 first stage completed a static fire test at our McGregor, TX rocket development facility last week," SpaceX reported.
The CRS-8 Falcon 9 first stage booster successfully delivered a SpaceX cargo Dragon to the International Space Station (ISS) in April 2016.
The Falcon 9 first stage was recovered about 8 minutes after liftoff via a propulsive soft landing on an ocean going droneship in the Atlantic Ocean some 400 miles (600 km) off the US East coast.
Aerial view of pad and strongback damage at SpaceX Launch Complex-40 as seen from the VAB roof on Sept. 8, 2016 after fueling test explosion destroyed the Falcon 9 rocket and AMOS-6 payload at Cape Canaveral Air Force Station, FL on Sept. 1, 2016. Credit: Ken Kremer/kenkremer.com
SpaceX, founded by billionaire and CEO Elon Musk, inked a deal in August 2016 with telecommunications giant SES, to refly a 'Flight-Proven' Falcon 9 booster.
Luxembourg-based SES and Hawthrone, CA-based SpaceX jointly announced the agreement to "launch SES-10 on a flight-proven Falcon 9 orbital rocket booster."
Exactly how much money SES will save by utilizing a recycled rocket is not known. But SpaceX officials have been quoted as saying the savings could be between 10 to 30 percent.
The SES-10 launch on a recycled Falcon 9 booster was originally targeted to take place before the end of 2016.
That was the plan until another Falcon 9 exploded unexpectedly on the ground at SpaceX's Florida launch pad 40 during a routine prelaunch static fire test on Sept. 1 that completed destroyed the rocket and its $200 million Amos-6 commercial payload on Cape Canaveral Air Force Station.
SpaceX is repurposing historic pad 39A at the Kennedy Space Center, Florida for launches of the Falcon 9 rocket. Ongoing pad preparation by work crews is seen in this current view taken on Jan. 27, 2017. Credit: Ken Kremer/kenkremer.com
The Sept. 1 launch pad disaster heavily damaged the SpaceX pad and launch infrastructure facilities at Space Launch Complex-40 on Cape Canaveral Air Force Station in Florida.
Pad 40 is still out of commission as a result of the catastrophe. Few details about the pad damage and repair work have been released by SpaceX and it is not known when pad 40 will again be certified to resume launch operations.
Therefore SpaceX ramped up preparations to launch Falcon 9's from the firms other pad on the Florida Space Coast – namely historic Launch Complex 39A which the company leased from NASA in 2014.
Pad 39A is being repurposed by SpaceX to launch the Falcon 9 and Falcon Heavy rockets. It was previously used by NASA for more than four decades to launch Space Shuttles and Apollo moon rockets.
But SES-10 is currently third in line to launch atop a Falcon 9 from pad 39A.
Falcon 9 first stage from May 2016 JCSAT mission was test fired, full duration, at SpaceX's McGregor, Texas rocket development facility on July 28, 2016. Credit: SpaceX
The historic first launch of a Falcon 9 from pad 39A is currently slated for no earlier than Feb. 14 on the CRS-10 resupply mission for NASA to the ISS – as reported here.
The EchoStar 23 comsat is slated to launch next, currently no earlier than Feb 28.
SES-10 will follow – if both flights go well.
SpaceX successfully launched SES-9 for SES in March 2016.
Last July, SpaceX engineers conducted a test firing of another recovered booster as part of series of test examining long life endurance testing. It involved igniting all nine used first stage Merlin 1D engines housed at the base of a used landed rocket.
The Falcon 9 first stage generates over 1.71 million pounds of thrust when all nine Merlin engines fire up on the 

test

 stand for a duration of up to three minutes – the same as for an actual 

launch

.
SES-10 satellite mission artwork. Credit: SES
Explore further:
SpaceX shuffles Falcon 9 launch schedule
Read more at: 
https://phys.org/news/2017-02-spacex-booster-historic-reflight-texas.html#jCp
[/url]
NASA okays commercial airlock for space station
February 6, 2017
Stephen Clark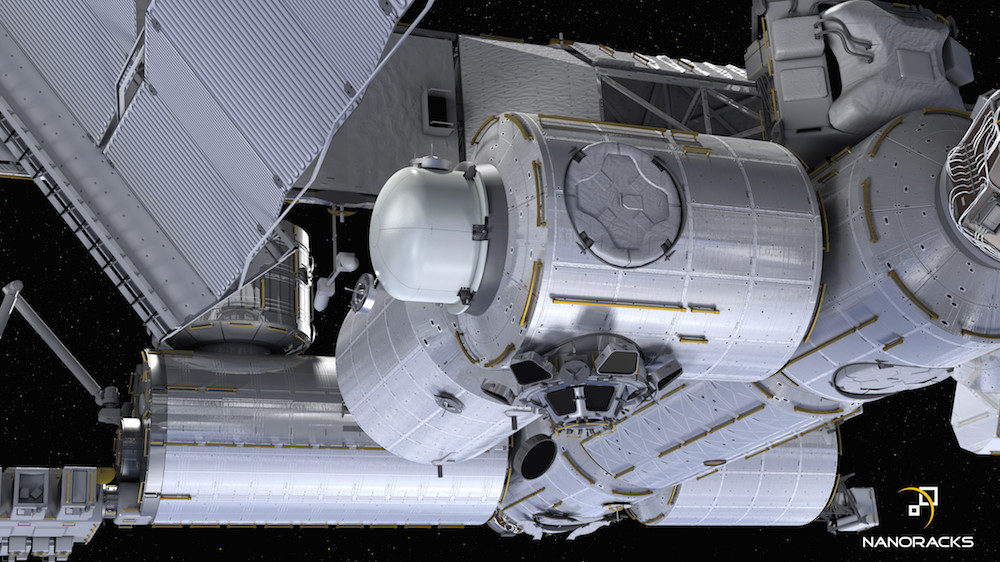 Artist's concept of the NanoRacks airlock attached to the space station's Tranquility module. Credit: NanoRacks
A commercial airlock built in partnership by NanoRacks and Boeing will be connected to the International Space Station in 2019, the companies announced Monday, after the proposed project won preliminary approval from NASA managers.
NanoRacks plans to deploy small commercial satellites and CubeSats from the airlock, reducing the workload currently occupying time on the smaller equipment airlock inside the Japanese Kibo laboratory module. Only half of the Kibo airlock's capacity is allocated to NASA and commercial clients — the rest goes to Japan.
"This partnership is an important step in the commercial transition we'll see on the ISS in coming years," said Mark Mulqueen, Boeing's ISS program manager. "Utilizing a commercial airlock to keep up with the demand of deployment will significantly streamline our process."
NanoRacks has arranged for the launch of more than 375 payloads to the space station since 2009, including more than 100 CubeSats released from a deployer mounted on the end of the Japanese robotic arm outside Kibo for commercial customers, universities and NASA.
Houston-based NanoRacks also has an external platform outside Kibo, where scientists can test sensors, electronics and other equipment in the harsh environment of space.
The privately-funded commercial airlock will launch inside the unpressurized trunk of a SpaceX Dragon cargo craft, then attach to a port on the station's Tranquility module with the Canadian-built robotic arm.
Another commercial module is already to connected to Tranquility.
The Bigelow Expandable Activity Module, or BEAM, launched to the station in April 2016 under a NASA-funded contract. Developed and built by Bigelow Aerospace, the soft-sided module expanded to full size in late May after bolted on to the Tranquility module.
BEAM is on a two-year demonstration to test the performance of an expandable module in space, but Bigelow and NASA are in discussions to extend the module's presence on the station longer.
NASA and NanoRacks signed a Space Act Agreement for the airlock project last year. The space agency announced Monday that it has committed to install the airlock on the station once NanoRacks completes pre-agreed financial and technical milestones outlined in the agreement.
"We want to utilize the space station to expose the commercial sector to new and novel uses of space, ultimately creating a new economy in low Earth orbit for scientific research, technology development and human and cargo transportation," said Sam Scimemi, director of the ISS division at NASA Headquarters in Washington. "We hope this new airlock will allow a diverse community to experiment and develop opportunities in space for the commercial sector."
The new airlock will triple the number of small satellites that can be deployed in a single cycle, according to Boeing.
[url=http://spaceflightnow.com/wp-content/uploads/2017/02/iss_nanoal.4k3_nr.jpg]

[img=675x0]http://spaceflightnow.com/wp-content/uploads/2017/02/iss_nanoal.4k3_nr.jpg[/img]

Artist's concept of the NanoRacks airlock attached to the space station's Tranquility module. Credit: NanoRacks
Astronauts inside the station will also be able to assemble payloads from components delivered to the complex in bags, then put them through the NanoRacks airlock, which can handle larger packages than the sizes supported by the current Kibo passageway.
Boeing is providing the passive common berthing mechanism, a connecting ring to install the new port on the Tranquility module, plus unspecified engineering services required for developing and manufacturing of the airlock, according to NanoRacks.
"We are very pleased to have Boeing joining with us to develop the airlock module," said Jeffrey Manber, CEO of NanoRacks. "This is a huge step for NASA and the U.S. space program, to leverage the commercial marketplace for low Earth orbit, on Space Station and beyond, and NanoRacks is proud to be taking the lead in this prestigious venture."
Boeing is also NASA's lead contractor for the entire space station, providing engineering support for all of the lab's U.S. modules.
NanoRacks said the airlock could be detached from the ISS and placed on another platform in orbit.
"The NanoRacks airlock module is the next logical step in the successful line of NanoRacks' commercial payload facilities," said Brock Howe, head of the airlock project at NanoRacks. "This airlock module will provide a broad range of capabilities to our payload customers and expand greatly on the commercial utilization of the station — and I look forward to leading the team at NanoRacks on this next venture."
The airlock module will be assembled and tested by NanoRacks, which is also responsible for the design, safety, operations, quality assurance, mockups and crew training, the company said in a statement.
ATA Engineering of San Diego will lead structural and thermal analysis and testing services for the airlock project.
https://spaceflightnow.com/2017/02/06/na...e-station/
Live coverage: SpaceX mounts first rocket on launch pad 39A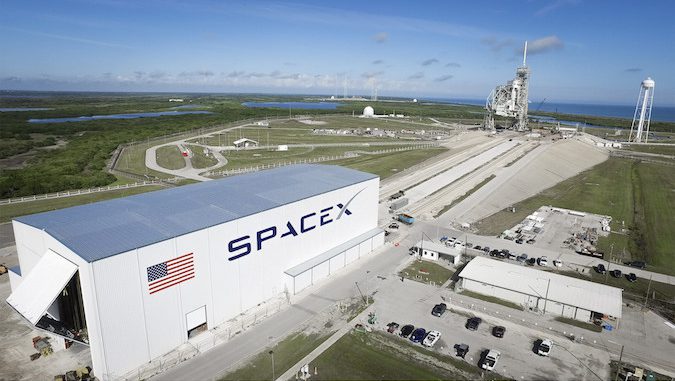 February 10, 2017
A rocket is standing on Kennedy Space Center's launch pad 39A, originally built for the Apollo and space shuttle programs, for the first time since 2011 after SpaceX hoisted a Falcon 9 booster upright Friday afternoon for a critical fueling and engine hotfire test. The static fire test is now scheduled for Sunday.
---