---
Tunnel Could Save L.A. From Traffic Hell - rhw007 - 10-29-2017



Elon Musk Posted New Pictures of The Tunnel That Could Save L.A. From Traffic Hell







The Boring Company hopes to dig tunnels faster, to help untangle messes like the 405.
By David Z. Morris
4:57 PM ET
Tesla and SpaceX CEO Elon Musk shared new images Saturday of a tunnel being drilled under Los Angeles by one of his smaller projects, The Boring Company. The photos are the most compelling proof yet that yet another of Musk's wild daydreams has turned into a likely multimillion-dollar endeavor – this one with the potential to remake Lost Angeles' nightmarish traffic.


View image on Twitter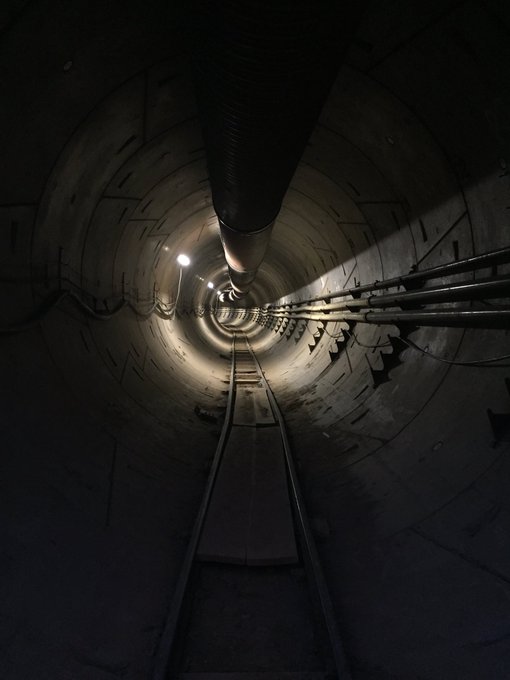 Quote:Follow
Elon Musk

✔

@elonmusk
Picture of The Boring Company LA tunnel taken yesterday
5:30 PM - Oct 28, 2017
 


Musk elaborated that the tunnel is currently 500 feet long, and that in about a year, it will "hopefully" extend from Los Angeles International Airport to U.S. Route 101 along Interstate 405. The 405 is perhaps the most notoriously congested highway in the United States, and has helped earn L.A. the distinction of having, by some measures, the worst traffic in the country.
Musk's Boring Company, first conceived while Musk himself was stuck in traffic, aims to alleviate those problems by taking vehicles off the road and sending them down a tunnel on high-speed electric 'skates.' Musk wrote elsewhere that the skates will travel at up to 150 mph. Musk has also recently shared previews of the elevators that will take cars underground.


All this talk of tunnels and high speeds might remind you of another Musk side project: the Hyperloop. And in fact, The Boring Company's focus on drilling tunnels more efficiently may converge with his 2013 proposal to send vehicles through low-pressure tubes at up to 600 miles per hour.
In early August, The Boring Company said that most of its tunnels it hopes to build would be "standard pressurized tunnels" — that is, without the vacuum that theoretically makes the Hyperloop's ultra high speeds possible. But for longer routes on straight lines, such as a planned route between New York City and Washington, D.C., the company says building Hyperloop routes "will make sense." Then, this month, Maryland's governor announced that The Boring Company was building a Hyperloop route from Baltimore to Washington, D.C., though Musk has not entirely confirmed that.

Source: http://fortune.com/2017/10/29/elon-musk-boring-company-tunnel-image/

Bob...
---
RE: Tunnel Could Save L.A. From Traffic Hell - Vianova - 10-30-2017

...
the east coast package:


Quote:may converge with his 2013 proposal 
to send vehicles through low-pressure tubes at up to

600 miles per hour.


no fucking way ... not for me, that is ...


They are building a tunnel under Seattle right now.
I call that city Seat-Hell now because of the wretched traffic.
And that fucking tunnel is an obscene curse of profane insanity.

In LA ... yea ... Musk's tunnel envisions super fast speedy transport.
In Seatt-Hell ... they want to try to move too many cars through it,
at less than freeway speeds.

Either way, 
it's all insane trying to accomodate a planet with too many Hue-mans,
congested in the slave cities of modern technological societies.
...


---
RE: Tunnel Could Save L.A. From Traffic Hell - EA - 03-20-2018

Uber patent application discusses intention signaling system
March 18, 2018 by Nancy Owano, Tech Xplore



Credit: US Patent Application 0072218
Reaching the highest levels of safety for self-driving cars will depend on how well the cars are
engineered to know when communications are needed, and to be able to communicate with other cars, with bikes, with people on foot. Where to go? When to walk?

Uber Technologies has filed a patent toward that end, with a discussion on how self-driving cars might communicate with pedestrians.
The patent title is "Light output system for a self-driving vehicle." The patent applicant is Uber Technologies.
The patent looks at how flashing lights and signs on the outside of self-driving cars might tell pedestrians what is happening.
David Nield reported on it in

TechRadar

. He noticed how "One image shows a 'please proceed to cross' sign on the front grill."
An Uber designer explained the goal.
Sean Chin, a product designer at Uber's Advanced Technologies Group, said in

The Verge

that the end goal was to communicate the intentions of the car so as to enable pedestrians to make their own decisions.
If the communications say the car is slowing down, all actors, including pedestrians and cyclists who are pulling up along the side, can interpret the vehicle's state.
"As operators, we have a high certainty about what the car is doing and what it plans to do," he adds. "What we need to do is enable pedestrians to interpret this behavior on their own."
In the course of communication, a person can move the head, wave a hand, nod or flash some lights. Chin said, "what we're considering is what is a new language we can create to give people that information."
First, the lights:
"The ride-hailing giant proposes wrapping its self-driving cars in flashing signs to effectively communicate messages to pedestrians and others around it."
Specifically, "flashing arrows would appear on the side-view mirrors, a projector would display a virtual crosswalk in front of the car, and a "virtual driver" would pop up in the windshield to point pedestrians in the right direction," said Andrew Hawkins in

The Verge

.
Sounds are being thought about too. "Uber's product team is also exploring how self-driving cars can communicate intent through 'vehicular sound' said Hawkins.
What are the chances this patent application will materialize into something real for Uber in the future?


The Verge

said Chin cautioned that the application "should be seen more as a framework for how Uber was thinking about this issue rather than a final product."
For sure, one takeaway is that Uber is serious about its work on self-driving technologies. In February, Taylor Soper in

GeekWire

noted "Uber's 80,000 square-foot self-driving engineering office in Pittsburgh, where the company first launched its Advanced Technologies Group three years ago."
Regarding their research, Soper wrote that "Uber's tech-laced vehicle constantly scans its environment, detecting everything from pedestrians, traffic lights, and signage. It automatically drops its speed in school zones and knows when a bicyclist is approaching from behind. There are gadgets everywhere, from the spinning LIDAR units above to the powerful onboard computer in the trunk."
Uber said on its site "While Uber is still in the early days of our self-driving efforts, every day of testing leads to improvements. Right now we're focused on getting the technology right and ensuring it's safe for everyone on the road—pedestrians, cyclists and other drivers."  
Explore further:

Uber self-driving cars are coming back to California roads


More information:

Light output system for a self-driving vehicle, US Patent Application 0072218



Woman struck and killed by self-driving Uber vehicle
A self-driving Uber vehicle struck and killed a pedestrian in a Phoenix suburb in the first fatality involving a fully autonomous test vehicle, prompting the ride-hailing company Monday to suspend all road-testing of such ...

9 hours ago in Business


---