Elon Musk Posted New Pictures of The Tunnel That Could Save L.A. From Traffic Hell
The Boring Company hopes to dig tunnels faster, to help untangle messes like the 405.
By
David Z. Morris
4:57 PM ET
Tesla and SpaceX CEO Elon Musk shared new images Saturday of a tunnel being drilled under Los Angeles by one of his smaller projects, The Boring Company. The photos are the most compelling proof yet that yet another of Musk's wild daydreams has turned into a likely multimillion-dollar endeavor – this one with the potential to remake Lost Angeles' nightmarish traffic.
View image on Twitter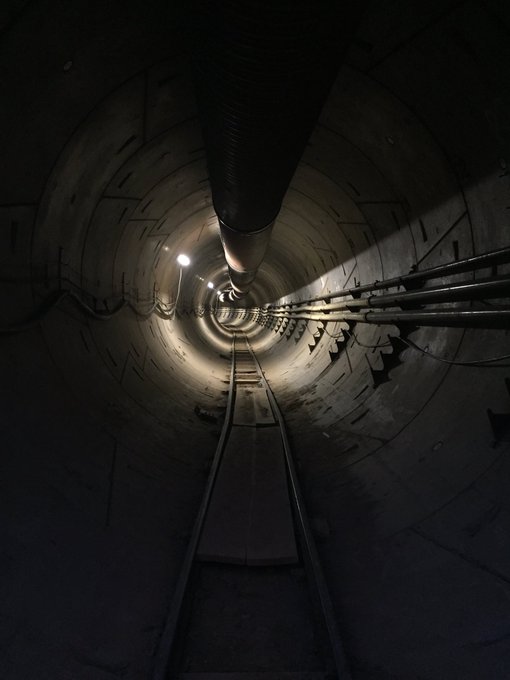 Quote:Follow
Elon Musk

✔

@elonmusk
Picture of The Boring Company LA tunnel taken yesterday
5:30 PM - Oct 28, 2017
Musk elaborated that the tunnel is currently 500 feet long, and that in about a year, it will "hopefully" extend from Los Angeles International Airport to U.S. Route 101 along Interstate 405. The 405 is perhaps the most notoriously congested highway in the United States, and has helped earn L.A. the distinction of having, by some measures, the
worst traffic in the country
.
Musk's Boring Company, first conceived while Musk himself was stuck in traffic, aims to alleviate those problems by taking vehicles off the road and sending them down a tunnel on high-speed
electric 'skates.'
Musk wrote elsewhere that the skates will travel at up to 150 mph. Musk has also recently shared previews of the
elevators
that will take cars underground.
All this talk of tunnels and high speeds might remind you of another Musk side project: the Hyperloop. And in fact, The Boring Company's focus on drilling tunnels
more efficiently
may converge with his 2013 proposal to send vehicles through low-pressure tubes at up to 600 miles per hour.
In early August, The Boring Company
said
that most of its tunnels it hopes to build would be "standard pressurized tunnels" — that is, without the vacuum that theoretically makes the Hyperloop's ultra high speeds possible. But for longer routes on straight lines, such as a planned route between New York City and Washington, D.C., the company says building Hyperloop routes "will make sense." Then, this month, Maryland's governor announced that The Boring Company was building a Hyperloop route from
Baltimore to Washington, D.C.
, though Musk has not entirely confirmed that.
Source:
http://fortune.com/2017/10/29/elon-musk-...nel-image/
Bob...
"The Light" - Jefferson Starship-Windows of Heaven Album
I'm an Earthling with a Martian Soul wanting to go Home.   
You have to turn your own lightbulb on. ©stevo25 & rhw007