(03-29-2015, 12:08 PM)

Fsbirdhouse link Wrote:Trying to improve her image at this point is......er.......pointless.
Powdering her face with what is apparently confectioners sugar doesn't make her look one bit sweeter.
more like a salty dog
she appears unfazed,
and just sitting it all out until the attention span of the generic American
yields to the network soap operas or the next Disaster du Jour ...
well that is what she is counting on -- short memory and attention span of the voter,
and it might just work.
I am taking the easy way out of this election for now.
Instead of scrutinizing the morass of morons and misfits,
I am using the generic American profile
by choosing who looks the best overall in TV and media images.
Who is the prettiest or most appealing candidate
from the perspective of visual appeal?
Well that would be Rand Paul and his wife, but he has competition.
... Wife? ... the First Lady!
Now there is an interesting subject to peruse.
Who would be the First Lady?
First Lady William Clinton with Boring Yeltsin
first Lady William Clinton with Michelle Obama
Actually Rubio is in the running for best looking presidential couple
... might be a tie with RP
http://www.businessinsider.com/check-out...012-6?op=1
Quote:One high school teacher offered him a C-minus if he skipped class,
and threatened to give him an F if he did show up.
Rubio graduated from high school with a 2.1 grade point average.
Quote:Rubio is a huge Miami Dolphins fan —
his sister and his wife Jeanette were even Dolphins cheerleaders.
Quote:Marco Rubio's wife quit her cheerleading career when she and Marco were married.
Jeanette Rubio is currently a stay at home mom
to their four children and leads a weekly Bible study group.
Ted Cruz with First Lady Heidi Cruz and that goofy baby in the lower right
heidi ho and goldman sachs
http://www.nationalreview.com/article/41...oel-gehrke
Quote:Her Goldman Sachs ties make her a "not-so-secret weapon" in terms of fundraising
Quote:She impressed a lot of other people, too,
going on from the campaign to hold multiple posts in the Bush 43 administration
culminating in her post at the National Security Council.
http://www.politico.com/story/2015/03/te...16381.html
[img]http://Ted Cruz is sounding off against Wall Street and financial institutions,
including Goldman Sachs
where his wife, Heidi, works as a managing director in Houston
.[/img]
First Lady Mrs. Jabba the Hut, Mary Pat Foster
First Lady Columba Bush
http://www.msnbc.com/msnbc/columba-bush-...didnt-know
Quote:This weekend, The New York Times and The Washington Post
both ran profiles on the spotlight-shy wife of a man
who could bring the Bush family name
back into the White House
for a third time in 2016.
Quote:She's got an elaborate jewelry collection.
Mrs. Bush really, really likes jewelry and spent lavishly on it
during her husband's political career.
In 1999, she was detained and fined by customs officials 
for lying about how much she'd spent during a Paris shopping trip;
she'd actually spent $19,000 and ended up paying more than $4000 in fines.
Quote:She loves her telenovelas.
Both profiles hint to Columba's love of Mexican soaps.
The Post quotes a line from a 1989 Miami Herald article:
"She would trade 20 society galas for one juicy Spanish soap opera
savored in the comfort of her South Dade County home,"
while the Times cites a friend saying the same.
voters in Texas, the entire ho-down
first lady Anita Thigpen Perry
http://thinkprogress.org/health/2013/10/...-comments/
http://thehill.com/policy/healthcare/182...nita-perry
Quote:and a master's degree in nursing
from the University of Texas Health Science Center in San Antonio.
Texas Tech University's School of Nursing was renamed in her honor in 2008.
Quote:One of her top priorities,
increasing immunization rates for children,
contributed to Perry's biggest headache so far in the campaign
when he had to explain his support for mandatory human papillomavirus (HPV) vaccinations
to the crowd at a Tea Party debate that wants the government out of their lives.

Perry quickly contained the damage,
calling his 2007 decision to require the vaccination through executive order a "mistake."
First Lady Kelley Ashby Paul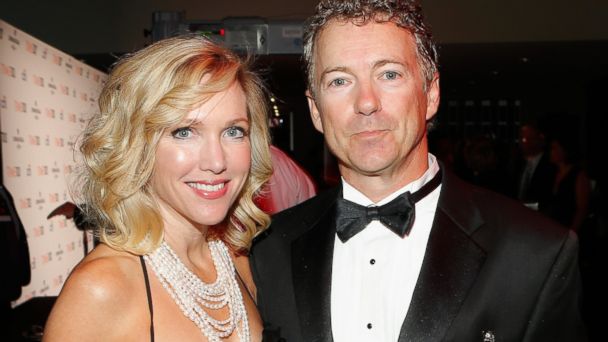 http://news.yahoo.com/book-tour-puts-ran...ction.html
Quote:"She's a tremendous asset," said John McCarthy,
a former Kentucky GOP chairman who has closely followed Rand Paul's rise.
"She's a very confident person, very comfortable, and she complements him well."
Quote:Reserved but politically savvy,
Kelley Paul worked for a Republican consulting firm
whose clients included another potential presidential candidate,
Texas Sen. Ted Cruz, 
before resigning more than a year ago.
Quote:Her 20-minute speech focusing on her Irish immigrant grandmother
moved her audiences throughout Kentucky to tears
.
Quote:"I guess I am as prepared as you can be,"
she said in an interview with The Associated Press.
"I'll try to maintain my sense of humor and optimism and just be brave."
Who will be the First Lady?