...
You have to see this video of Omar -- the Crazy Scarf Lady,
that Pelosi,
now has to tolerate and keep in line.
She tangles with Abrams yesterday in Congress.
This girl is a fucking looney tune of whacko.
Omar is a one woman infestation of 
  It's.
two days ago she had to apologize for bad behavior in the CNN headlines:
Omar: 'I unequivocally apologize' -- after backlash over new anti Israel tweets
here she is yesterday ... a still shot from the video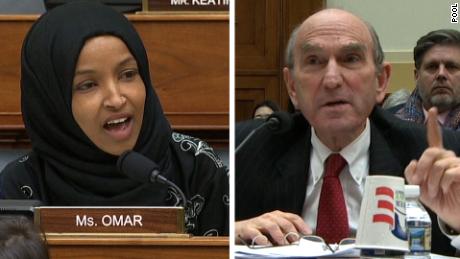 GO TO THE VIDEO in the link below to see this exchange!
https://www.foxnews.com/politics/ocasio-...ke-justice
Ocasio-Cortez says Ilhan Omar's grilling of Trump Venezuela envoy 'feels like justice'
So I made some images here of what she really represents
Omar is Khamenei's long distance puppet.
Today she trashed the Narnian Mole,
CNN's Manu Raju,
right in front of cameras,
as he tried to pin her down on anti Semitic comments <---
CNN -- is the original News Jews, 
watch them turn against Omar as the weeks and months go forward.
She cannot contain her hatred for Israel and Jews.
Omar is crazier ... than Crazy Mazie Hirono.
Between Omar and Ocasio-Cortez ... they will rip apart the Democratic Party.
Go get 'em girls!
...