" an insufferable Spanish accent,"
You mean... like 

Enrique Peña Nieto

???
Nope.
I sound like me I suppose.
The French Canadiens could no more disentangle than The French in Loiusianna.
He actually said:
Yes
and Trump thought he said
chess
.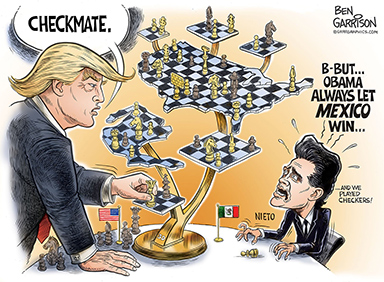 Are you sympathetic to the Quebecois separatist movement 
The question is are you?
QUEBEC MOSQUE SHOOTING A DEVASTATING BLOW TO LEFTIST NARRATIVE
Leftist media rushes to judgement while lacking details
Dan Lyman

 | Infowars.com - 
JANUARY 30, 2017
http://www.infowars.com/quebec-mosque-sh...narrative/
External links

[

edit

]
Moi? 
 KR
I'm just a dude who can judge a Judge.
no friend or enemy that holds a grudge.
Browse NYT while I am reading  Drudge.
All ma'at @ that Swamp drained sludge.
" an  insufferable

English

 

Quebecois

[i][size=undefined]

 

[/i]
[/size]
accent

"
Police Arrest Moroccan Student in Quebec Mosque Shooting
truthfeed.com › Breaking News
[size=undefined]

9 hours ago - 

The gunmen opened fire on worshippers and shouted "Allahu Akbar" in what 

sounded like a Quebecois

 accents as they carried out their ...[/size]
[size=undefined]

Trudeau receives condolences from Donald Trump in wake of Quebec ...

[/size]
www.torontosun.com/.../trudeau-receives-

condolences

-from-donald-

trump

-in-wake-o...
[size=undefined][size=undefined]

5 hours ago - 

OTTAWA — Prime Minister Justin Trudeau has spoken with U.S. 

President

 Donald

Trump

, who expressed his 

condolences

 to Canadians today in the wake of a deadly 

shooting

 at a mosque in 

Quebec City

.[/size][/size]
[size=undefined]

[size=undefined]?

[/size][/size]
[size=undefined][size=undefined]
 [/size][/size]
I noticed KR never notice that there isn't a border-wall with Canada.
Along the vines of the Vineyard.
With a forked tongue the snake singsss...