Senate Judiciary Chairman Confirms Trump Is Not Under FBI Investigation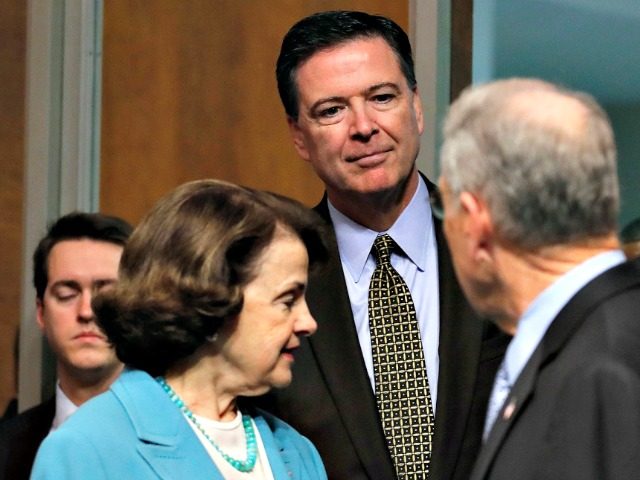 by
KRISTINA WONG
11 May 2017
Senate Judiciary Committee Chairman Chuck Grassley (R-IA) on Thursday vouched for President Trump's assertion in a letter to former FBI Director James Comey that he was not under investigation by the FBI.
Grassley 

told committee members at an executive meeting

 that he and Ranking Member Dianne Feinstein (D-CA) had met with Comey last week, and that he had briefed them on who the targets of the various investigations are.
"Senator Feinstein and I heard nothing that contradicted the President's statement," he said.
Feinstein then said after Grassley's statement, "I very much appreciate what you've said and it's very accurate, and we were briefed."
Grassley said that, shortly after Comey had briefed them, he had tweeted that the then-FBI director should be more transparent.
"I said he should tell the public what he told Senator Feinstein and me about whether the FBI is or is not investigating the President," he said.
"Now Mr. Comey is no longer the FBI director. But the FBI should still follow my advice. It should confirm to the public whether it is or is not investigating the President. Because it has failed to make this clear, speculation has run rampant."
During a Senate Judiciary Committee hearing last week, Comey refused to confirm whether the president was under FBI investigation, saying that doing so put him on a slippery slope of having to answer who else is or is not under investigation.
"I understand why he took that position, but I don't agree – at least not when it comes to the President and senior government officials. The American people deserve to know if senior government officials are under active criminal or intelligence investigation," Grassley said.
The speculation went into overdrive on Wednesday, after Trump fired Comey in a surprise move. In Trump's letter to Comey announcing the firing, he wrote: "I greatly appreciate you informing me, on three separate occasions, that I am not under investigation."
Grassley said wild speculation that the FBI is targeting the president is "not just irresponsible and unfounded," but also played into Russian goals to undermine the American public's faith in democratic institutions.
"It provides aid and comfort to the Russians and their goal of undermining faith in our democracy," he said.
Grassley also suggested other committee members get briefed by the FBI on "what is actually going on" before the committee does anything more in its investigation on Russian interference in the election.
"Hopefully, that will help temper some of the unsubstantiated statements that have been made," he said.
http://www.breitbart.com/big-government/...stigation/
Quote:Posted by Kalter Rauch - Wednesday, M

ay 10th, 2017, 05:18 am




HILLARY......"WHAT DIFFERENCE DOES IT MAKE ???"





This will mean a lot, with the new FBI Dir......hehheh




Posted by rhw007 - Wednesday, May 10th, 2017, 01:47 am




I hope that maybe Hillary "might" get a Federal Grand Jury to decide whether or not to bring charges in a PUBLIC trial...
Bangladesh PM: Clinton 'Personally Pressured' Her to Aid Foundation Donor Despite Ethics Laws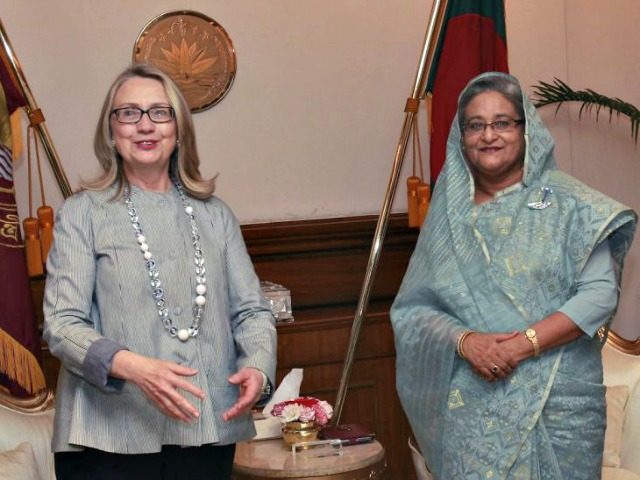 by
KATHERINE RODRIGUEZ
11 May 2017
5,1
A foreign government has revealed another one of the Clinton Foundation's pay-to-play schemes.
Bangladesh Prime Minister Sheikh Hasina said that Hillary Clinton

"personally pressured"

her to help a Clinton Foundation donor during Clinton's tenure as secretary of state in 2011, despite it being against ethics laws, 

Circa

 reported.
Hasina's press secretary told Circa that Clinton placed a phone call to her office in March 2011 insisting that 2006 Nobel Peace Prize winner Dr. Muhammed Yunus get his job back as chairman of Grameen Bank, a famous microcredit bank in the country.
Yunus is chairman of the bank's nonprofit Grameen America, which donated between $100,000 and $250,000 to the Clinton Global Initiative, Circa reported.
Yunus also chairs Grameen Research, which donated an estimated $25,000 and $50,000 to CGI.
"Former US Secretary of State Hillary Clinton telephoned Bangladesh Prime Minister Sheikh Hasina in March 2011 insisting her not to remove Dr. Muhammad Yunus from the post of Managing Director of Grameen Bank," Deputy Press Secretary Md Nazrul Islam said.
Islam added that the prime minister told Clinton that the company's rules and regulations require the chairperson of the bank to be no older than 60, even though Yunus was not removed from his position until he was 70 and he argued with the prime minister over his removal.
The Bangladesh government said that Grameen Bank is a "statutory body of the government" that must follow banking laws and that they told Clinton Yunus collected an illegal salary over the past ten years.
Yunus claims he was removed from his position due to "internal politics" and not because of any wrongdoing.
Grameen Bank was investigated in 2012 by the Bangladesh government for mismanagement of finances.
Yunus told the 

Independent

 in 2013 that he feared his ouster would cause the bank to be under too much government control and detract from the bank's original mission.
"It will be a disaster," Yunus said. "Everybody in Bangladesh knows that if any business is controlled by the government, it goes down. Now why do they want to do that for the bank?"
The Clinton Foundation has been plagued by many allegations of corruption for its pay-to-play schemes.
Breitbart News Editor-at-Large and 

Clinton Cash

 author Peter Schweizer first reported these allegations, including the time when senior Clinton Foundation staffers 

coordinated

with State Department officials during Hillary Clinton's tenure as secretary of state after the earthquake in Haiti in 2010 to give special treatment to "friends of Bill Clinton."
Clinton Cash

 and the 

New York Times

 also exposed how then-Secretary of State Hillary Clinton approved a deal with the Russian government that would give them of 20 percent of U.S. uranium while the Clinton Foundation received $145 million in donations from people connected to the sale.
The foundation announced in January that it would 

lay off

 22 staffers as a result of the discontinuation of CGI.
http://www.breitbart.com/big-government/...hics-laws/
Along the vines of the Vineyard.
With a forked tongue the snake singsss...